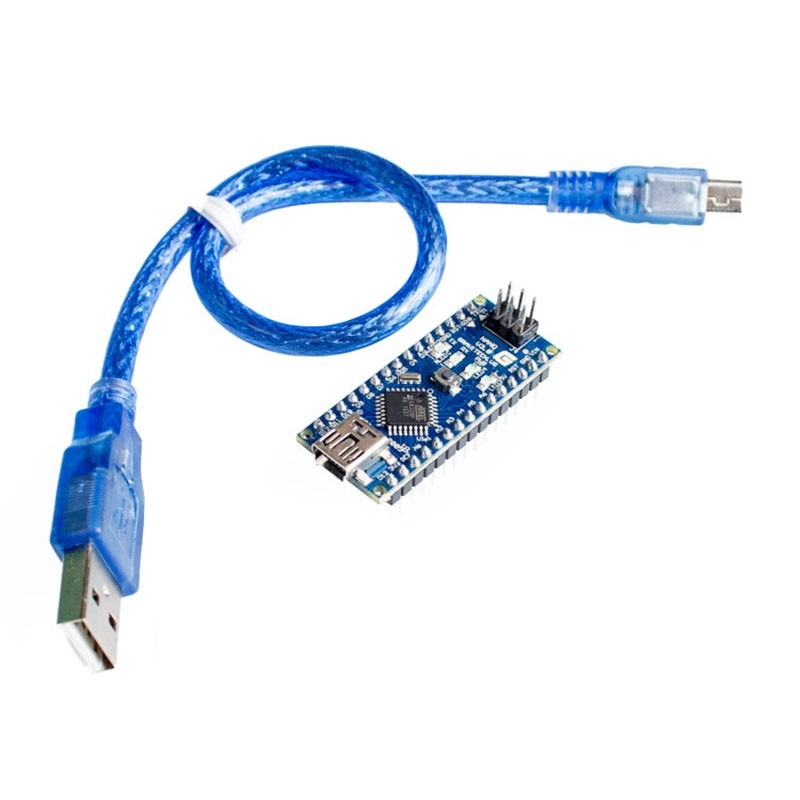 The Arduino Nano is a small, complete, and breadboard-friendly board based on the ATmega328P (Arduino Nano 3.x). It has more or less the same functionality of the Arduino Duemilanove, but in a different package. It lacks only a DC power jack, and works with a Mini-B USB cable instead of a standard one.
Nano is an ultra-small Simple i/o platform based on open source code. Compared with the previous USB version of Arduino Diecimila, Arduino Nano has a great advantage in size and has 8 A/D inputs. There are more than 2, and it also has the function of automatic switching between USB power supply and external power supply, which is more suitable for DIY to make more exquisite interactive media works.
NANO V3.0 Technical Specifications:
Digital I/O Digital input/output terminal 0~13.
Analog I/O A/D input 0~7.
Support USB interface protocol and power supply (no external power supply required).
Support ISP download function.
Supports single chip TX/RX terminals.
AREF terminal is supported.
Support 6 groups of PWM terminals (Pin11, Pin10, Pin9, Pin6, Pin5, Pin3).
Input voltage: No external power supply or external 6V~12V DC input is required when connecting to USB.
Output voltage: 5V DC output and 3.3V DC output and external power input.
Using Atmel Atmega328PAU microcontroller.
Dimensions: width 18mm X height 45mm.
Specification:
| | |
| --- | --- |
| Microcontroller | ATmega328 |
| Architecture | AVR |
| Operating Voltage | 5 V |
| Flash Memory | 32 KB of which 2 KB used by bootloader |
| SRAM | 2 KB |
| Clock Speed | 16 MHz |
| Analog IN Pins | 8 |
| EEPROM | 1 KB |
| DC Current per I/O Pins | 40 mA (I/O Pins) |
| Input Voltage | 7-12 V |
| Digital I/O Pins | 22 (6 of which are PWM) |
| PWM Output | 6 |
| Power Consumption | 19 mA |
| PCB Size | 18 x 45 mm |
| Weight | 7 g |