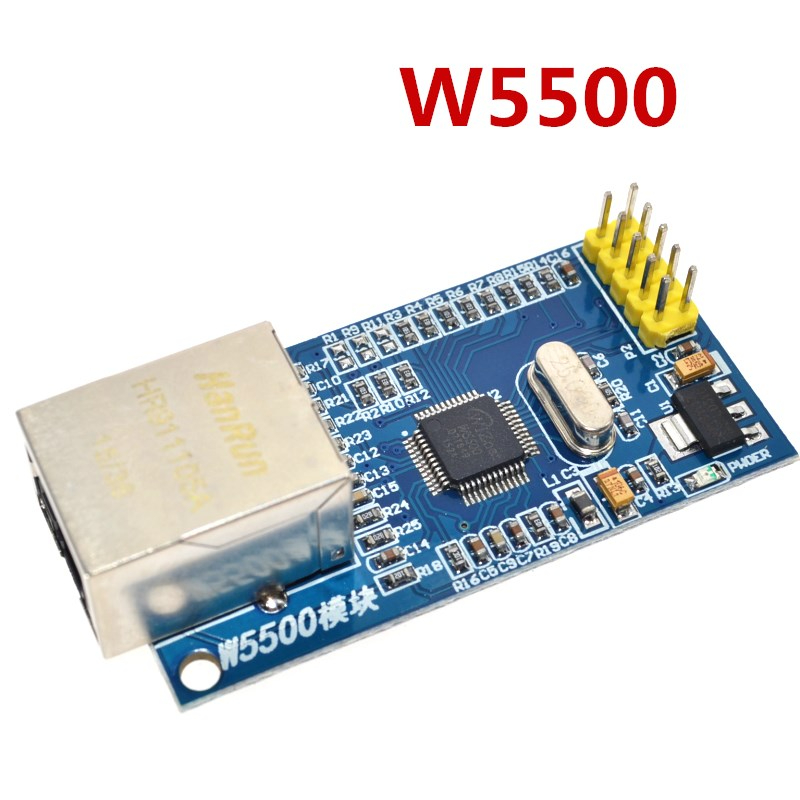 W5500 Ethernet Network Module TCP/IP SPI Interface 51/STM32 Program W5100 Upgrade Edition
Description:
Product Description Description: The W5500 module is a module based on Ethernet WIZNET new type of chip W5500, module integrates the whole hardware TCP/IP protocol stack, no need code implements the TCP/IP protocol stack, support transmission rate of 10/100MBPS, support sleep mode and wake on LAN, Within the integrated 32K TX/RX cache, support 8 independent ports run at the same time, Module supports 3.3V or 5V power supply, convenient for the user to use in the SCM system different, module and MCU system communication mode is SPI protocol, Support SPI clock frequencies up to 80M, provide STM32 and 51 SCM client, server, three modes of UDP routines.
Chip Features: Hardware support TCP /
IP protocols: TCP, UDP, ICMP, IGMP, IPv4, ARP, IGMP, PPPoE and Ethernet Supports eight independent ports (sockets) It provides sleep mode WOL provided Support high-speed SPI bus (SPI mode 0, 3) 32K bytes of internal memory as TX / RX buffer Embedded 10 / 100Mbps Ethernet Physical Layer It supports auto-negotiation (10 / 100Base full / half duplex) IP fragmentation is not supported 3.3V operating voltage, I / O port can withstand 5V voltage Multiple indicator signal output (full / half duplex mode, network connectivity and network speed)
Product Features: 1, Size: 36mmX59mm 2, the
module communication: SPI 3, LED
lights indicate module status: power indicator, full / half duplex indicator, speed indicator, a network connection indicator, active LED) 4, due to the heat at work W5500 is relatively large, the modular design allows for heat dissipation package pads. 5, the module uses a low dropout voltage regulator chips that can interface 5V power supply can also use 3.3V power supply. The power supply uses tantalum capacitors, to ensure the stability of the power supply inputs and outputs for the W5500 to provide a stable power support. 6, module PCB layout design, with reference to the experimental plates and the corresponding official document, cabling specifications mention, high-speed signal lines in strict accordance with relevant principles of cabling. 7, power ground (GND) and Cable (RJ45) by 1nf / 2KV capacitor electrically isolated, this is the official design, suitable for industrial applications occasions.