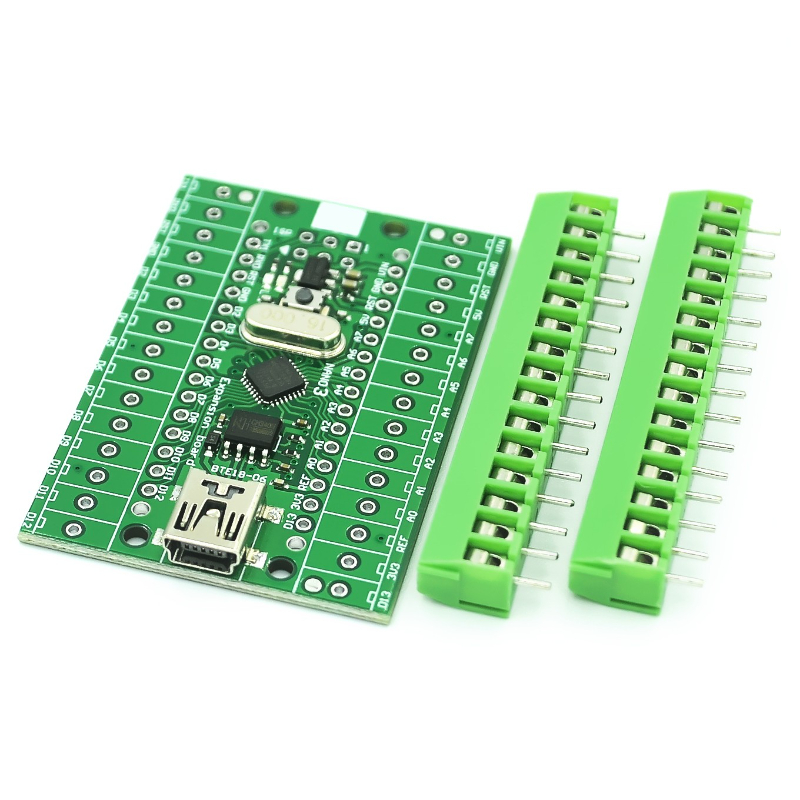 NANO3 Arduino Compatible ATmega168 Based Development Board with Expansion
The board is based on Arduino Nano and uses an ATmega168 microcontroller. It provides expandability and ease of use by adding terminal blocks for all the IO and power pins while being small and breadboard-friendly. It offers the same connectivity and specs as the UNO board, but in a smaller form factor.
The board is programmed using the Arduino Software (IDE), the Integrated Development Environment common to all our boards and running both Arduino online and offline. For more information on how to get started with the Arduino Software visit the Getting Started page.
This board can be powered by means of the Mini-B USB or 7-12VDC through the unregulated external power supply pin labelled Vin (RAW) and GND.
This board delivers 5VDC to your target device that you might want to interface, using the pins labelled 5V and GND. (You can power your sensor off this).
Specifications:
Microcontroller ATmega168
Operating Voltage (logic level): 5 VDC
Input Voltage (Recommended): 7-12 VDC
Input Voltage (limits): 6-20 VDC
Digital I/O Pins : 14 (of which 6 provide PWM Output)
Analog Input Pins: 8
DC Current per I/O Pin: 40 mA
Flash Memory: 16 KB (ATmega168) of which 0.5 KB used by bootloader
SRAM: 1 KB (ATmega168)
EEPROM: 512B (ATmega168)
Clock Speed: 20 MHz
Measurements: 52 x 36mm / 2.04″ x 1.41″